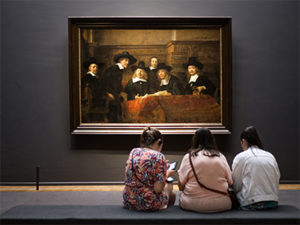 The new exhibition, opened on 13th June 2019, on display in the Cathedral of St. Peter and Paul in Brno, presents a collection of artwork that depict the Holy Trinity.
The collection of paintings, sculptures, liturgical objects and parament, baring depictions of the Holy Trinity, is now on display in the cathedral's crypt. One such painting, is that of Mucha's Throne of Grace, painted in 1880, and never before exhibited to the public.
"The image of the Throne of Grace was painted by Mucha in 1880, when he was only 20 years old and it was at a time when he was not accepted by the Prague Academy of Fine Arts for lack of talent," said Martin Motyčka, Director of the Diocesan Museum.
It is thought that the work was likely painted for the parish in Ivančice, Mucha's hometown. The Czech artist's inspiration from theatre is evident in the painting, and it was around this time that Mucha painted the scenery and curtains for the Viennese Ringtheatre.
The exhibition is hosted by the Diocesan Museum in Brno, Czech Republic.