With the recent news of The Slav Epic moving back to Moravský Krumlov, with an exhibition pencilled in for 2020, here's a look at the other Mucha exhibitions planned for next year.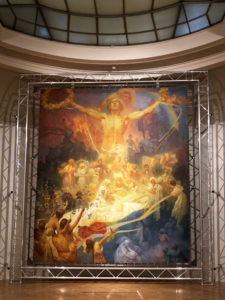 Timeless Mucha: Mucha to Manga – The Magic of Line, Various Locations, Japan [Present – 29.11.2020]
Curated by the Mucha Foundation and in partnership with NTV, this exhibition is currently on tour in Japan until the end of 2020, and is set to travel to a number of different Japanese cities in 2020. The exhibit, comprising of 250 works, focuses on Alphonse Mucha's unmistakable linear style, seen in much of his Art Nouveau work, and looks at how this distinct technique has influenced generations of manga artists in Japan. See the Mucha Foundation website for more details on the cities and galleries hosting the exhibition.
From Mucha To Morris: Books of the Art Nouveau – Walters Art Museum, Baltimore, Maryland, USA [02.10.2019 – 19.04.2020]
Opened at the start of October in Baltimore, USA, this exhibition displays a section of 12 Art Nouveau books, by Mucha, William Morris and others. The collection of publications, drawn from Henry Walter's collection, exemplify the romance and whimsy of the Art Nouveau era. Among the collectible editions is a unique edition of Ilsée, Princesse de Tripoli, featuring original watercolour illustrations from Mucha.
Alphonse Mucha: Master of Art Nouveau – Memorial Art Gallery of the University of Rochester, 500 University Ave., Rochester NY 14607 [12.10.2019 – 19.01.2020]
This travelling exhibition, currently on display in Rochester, New York, features 75 works by Mucha and examines the broad range of the artist's work, through: rare original lithographs, proofs and drawings, as well as books, illustrations and various artefacts. The group of works are drawn from one of the finest private collections of Mucha's work in the US. The exhibition is organised by Landau Travelling Exhibitions, Los Angeles, CA. For more info and further exhibition dates and locations see: https://hsvmuseum.org
The Slav Epic – Moravský Krumlov [July 2020 onwards)
As mentioned, Mucha's cycle of monumental paintings will be moved back to the southern Moravian town for a period of five years. The move, approved by the Prague City Council, will see the paintings moved back to their long-time home, while a suitable permanent space is found in the capital. An exhibition, displaying the whole Slav Epic is set to open in July 2020.
Permanent Exhibitions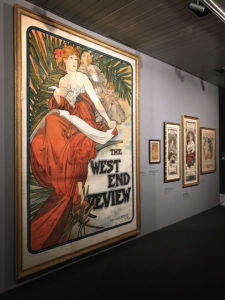 Mucha Museum (Muchovo muzeum), Panská 7, Praha 1 – Nové Město, 11000
The Collection of Prints and Drawings, Veletržní palác, National Gallery in Prague, Dukelských hrdinů 47, Praha 7
There are also two permanent exhibitions, in Prague, that include Mucha's works. These are housed in the Mucha Museum, run by the Mucha Foundation, and the National Gallery in Prague amongst a large collections of prints and drawings.
Know about any other up-and-coming Mucha exhibitions? Feel free to share your insights.