The Slav Epic is not only a cycle of monumental paintings, but also an extraordinary book of the highest quality. The luxurious large-format publication; epos, is comprised of highly detailed photographs of The Slav Epic, captured using cutting-edge photographic technology. and accompanied by texts with contributions by leading historians, curators and philosophers.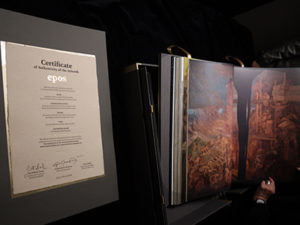 The book was first presented to the public towards the end of April 2019, at its launch in the Clementinum, Prague. Symbolically, after a period of 100 years, Mucha's Epic returned to the location where, in 1919, people admired the artist's work for the first time. The opening was also attended by the patron of the book, Mucha's granddaughter Jarmila Mucha Plocková
The event drew a crowd of people, enthusiastic to see the unveiling of the book in the Clementinum. As well as having the chance to see the new publication, up close and in person, the visitors were also able to witness a unique dance performance inspired by Slavic tradition and Mucha's Epic.
In addition to the book's launch, a press conference was held, led by actor and director Vojta Kotek. The book's author and photographer J.W. Drnek, as well as representatives from the Czech National Library in Prague, Albatros Media publishing house and Prague City Gallery, were also present.