There's still time to catch the Mucha exhibition in Osaka, Japan.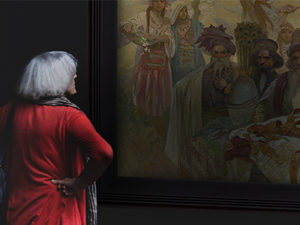 On display until the end of June 2019, the 'Mucha's Dream' exhibition, at the Sakai Alphonse Mucha Museum, follows Mucha's work from the Paris World Expo, to his return to Czechoslavkia.
The first chapter of the exhibit looks at the artist's works related to the 1900 Paris World Expo, including works related to the Bosnia Herzegovina Pavilion, that Mucha was commissioned to paint by the Austro-Hungarian Empire. Also included in this section, are a selection of Mucha's famous lithographic advertisements, as well as a selection of sculptures. 
The second chapter focuses on an assortment of oil paintings, including large works like that of Quo Vadis. 
The final part of the exhibition displays posters and oil paintings produced by Mucha after returning to his homeland of Czechoslovakia in 1910. Also included are bank notes and stamps, designed by Mucha, for the new Czechoslovak Republic, founded in 1918. This chapter also includes larger works, related to Mucha's monumental masterpiece; The Slav Epic.
For more information click here.